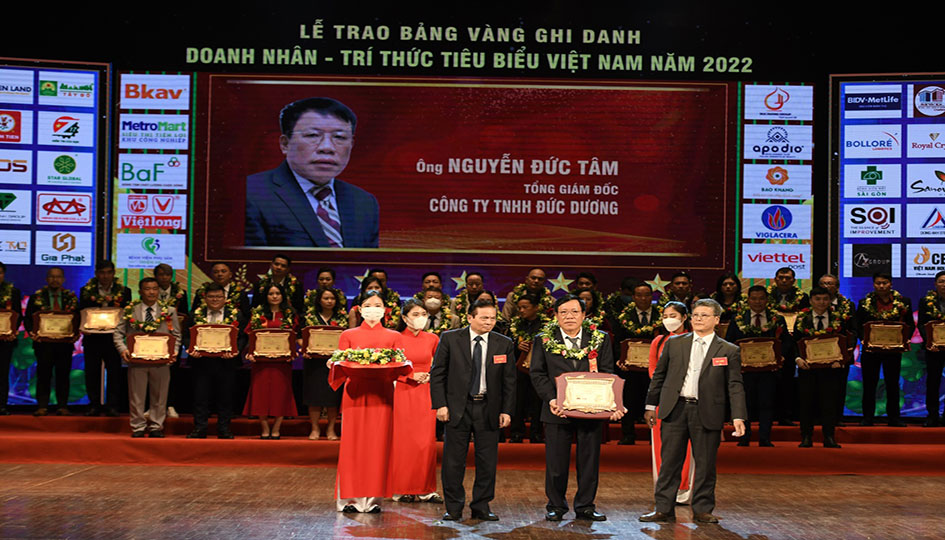 DUC DUONG GROUP ACHIEVES TOP 10 GOLDEN BRAND VIETNAM IN 2022
At the Awarding Ceremony of enterprises with High-Quality Vietnamese Goods for the interests of consumers in 2022, in order to honor typical Vietnamese brands, Duc Duong limited liability company was honored to be in the Top 10 Vietnam Gold Brands in 2022 and Project The Beverly Hills Ha Long project is in the Top 10 Gold Quality Products in 2022.
It is a program that unites a team of typical entrepreneurs and intellectuals across the country, encourages production to develop, thereby building strong Vietnamese brands and products, contributing to protecting legitimate interests of consumers, the Vietnam Economic and Cultural Human Resource Development Institute in conjunction with the Vietnam Consumer Protection Center organized a program to award a golden board to the typical Vietnamese businessman - intellectual. This is a program to recognize the golden quality brand - product - service in 2022, which is trusted by consumers, affirming the growth and quality of domestic products over the past year.
After 2 years of unusual fluctuations due to the waves of COVID-19 infection, we have witnessed the unremitting efforts of Vietnamese businesses and entrepreneurs, affirming their position and prestige. , the trust of domestic and international partners and consumers, actively contributing to the process of innovation, integration and economic development of the country, helping millions of workers maintain their livelihoods and create sustainable recovery momentum for the following years.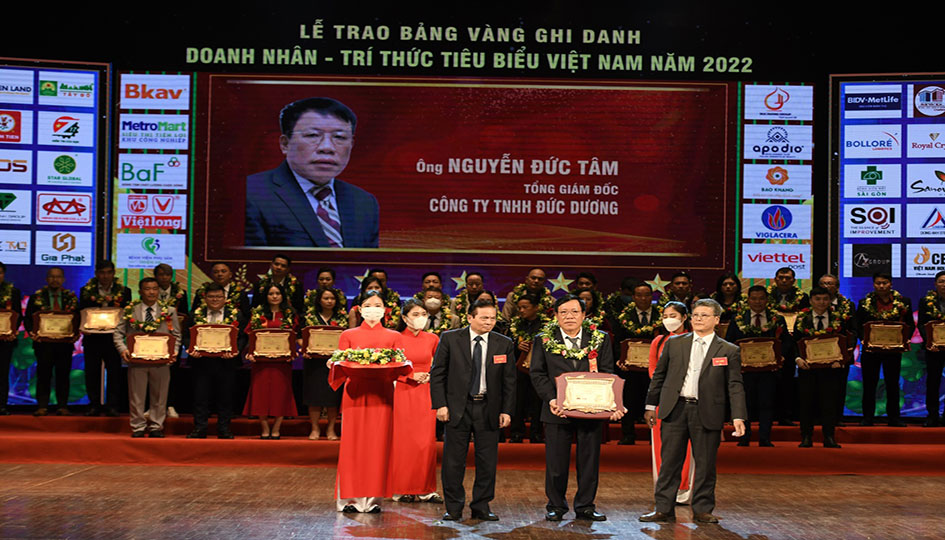 Along with that, in order to recognize the efforts and resilience of entrepreneurs to overcome the challenges of the Covid-19 pandemic, through a process of serious, fair and objective work of the Association. With the enthusiasm, determination and responsibility in business and community activities, Mr. Nguyen Duc Tam - General Director of Duc Duong Group was honored to be one of the 50 typical faces awarded title "Excellent Entrepreneur of Vietnam" in 2022.
Nguyen Duc Tam said: "Being honored is a pride, a gift to recognize the efforts of all employees of the corporation. This is also a guideline for Duc Duong Group to continue to innovate and contribute to the country's socio-economic development.
Many big names and corporations have been on the list of honors this time, such as Viglacera Group, Kinh Hai Long, BKAV, Mai Linh...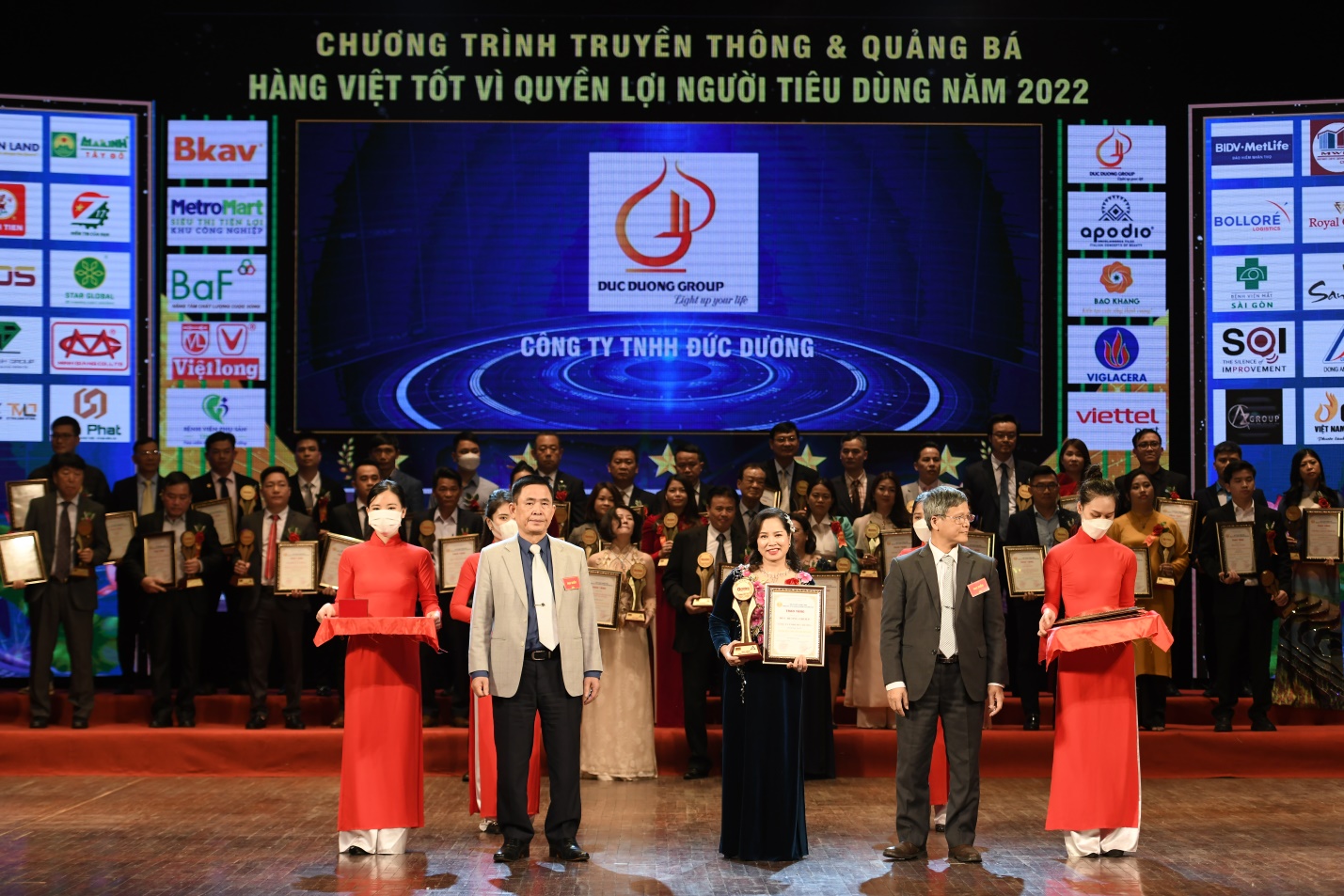 Duc Duong Group is a multi-industry economic group, developing mainly in the fields of: Real estate, general construction contractor, design consultancy, trading equipment, building materials.... In the field of real estate, Duc Duong Group is considered as a powerful investor with both financial capacity and experience, developed with the available capacity of a professional general contractor. With "gold" projects that bring huge profits and a team of dedicated professional staff, Duc Duong Group is increasingly asserting the right development direction to make its own mark and become a top-class investor top of the area.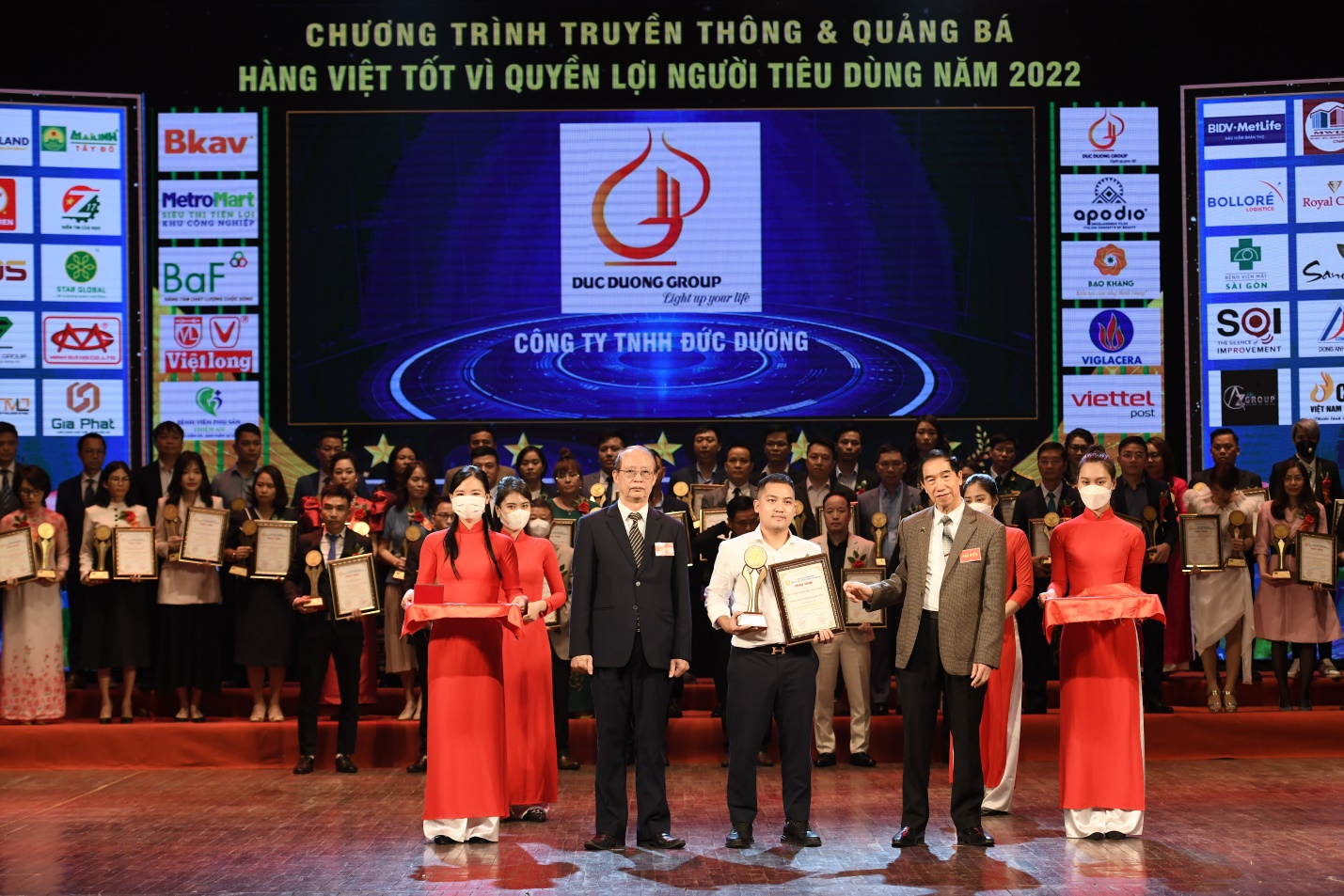 Thanks to the acumen in the development strategy, with the mission of bringing a preeminent life, the Beverly Hills Ha Long project was born, a dedicated resort project of the investor Duc Duong Group. Located on the hill of Quang Ninh Navy with a beautiful location, it is a place to welcome a lot of prosperity to bring fortune to future owners. From Beverly Hills, visitors can fully admire the natural wonder of Ha Long Bay and use a lot of high-class facilities to bring a living space, a luxurious resort space worthy of the owner.
With an area of ​​10.8 hectares, Beverly Hills Ha Long develops mainly with 138 luxury villas, 22 adjacent lots, and two 19-storey buildings including a hotel building with 160 rooms of 5-star standard apartments. , 1 Apartment building with 92 luxury apartments and many other high-class resort services.

Over the course of 20 years of construction and development, Duc Duong Group is known as an industry - construction - investment group with fast and sustainable growth in Vietnam. In which, the resort real estate, restaurant and hotel segments have always been strategic and sustainable segments of the Group.